Products on Show
A last-mile ecosystem for maximized productivity
BrightDrop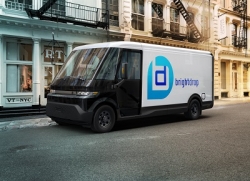 BrightDrop will showcase its EV600 vehicle, its EP1 cart and a cloud-based software platform. The EV600 is a long-range, all-electric light commercial vehicle designed with city deliveries in mind. It is purpose-built for the delivery of goods and combines zero-emissions driving with segment-leading safety features, offering an estimated range of up to 400km on a full charge.

The EP1 is an all-electric cart available now for field testing and operational deployment. It is designed to transport goods over short distances (for example, from delivery van to the front door) and offers a new take on the age-old dolly. Equipped with an electric hub motor capable of matching walking speeds of up to 5km/h, it can help reduce the number of package touchpoints, operational costs and physical strain on the labor force.

Finally, BrightDrop's cloud-based software platform is focused on improving the efficiency of operations with real-time data, insights and controls.

This portfolio of hardware and software solutions is designed to help fleets lower costs, maximize productivity and improve safety – all while reducing harmful emissions and street congestion. More than just electrifying delivery vehicles, BrightDrop is reimagining the entire last-mile ecosystem with a holistic set of solutions designed to meet the challenges of rising e-commerce head-on.