Products on Show
Transfer and diverting station
Regal Rexnord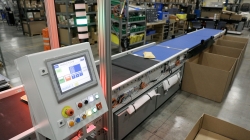 Designed to solve a range of increasingly challenging transfer and diverting problems that are complicating operations in distribution centers, particularly in retail e-commerce distribution, Regal Rexnord Corporation's ModSort roller-top belt mobile flats sorter will be on display at the show.

The ModSort roller-top station was developed to meet the industry's needs for diverting, transferring and sorting products. Using a matrix of freely rotating balls embedded in a continuous flat belt in conjunction with 24V DC motorized drive rollers, the rolling top-belt station uses precise, controlled, impact-free motion to divert and transfer products onto motorized conveyor lines.

The ModSort modular roller-top belt station is a new concept for transferring and diverting a wide variety of package types. With no auxiliary diverting equipment, its smooth and precise positioning control minimizes packaging impact, and its multipurpose, modular design enables it to be positioned wherever it is needed within conveyors for any transfer or diverting application. Although using motion control rather than force to divert objects is a sophisticated concept, the engineering that makes it possible is a model of simplicity.