Products on Show
Dorner presents its latest material handling workhorse
Dorner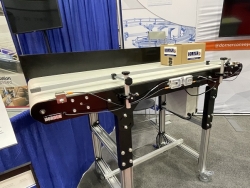 At Package Fulfillment, Logistics & Delivery Expo, Dorner is presenting its new release, the 3200 material handling industrial workhorse.

While similar in specification to Dorner's original 3200 series, this version has a selection of additional features, including gearmotor mounting packages and a variety of product guiding options. The 3200 material handling conveyor is expected to better serve the logistics and e-commerce industry by providing an economical painted-steel frame paired with Dorner's commitment to precision conveyance. Dorner asserts that the tech's accuracy is ideal for package labeling, inkjet printing, layer forming and robotic integrations.

Marco Pardo, product manager of Dorner, said, "This solution will be launched in the next couple of months. Our 32MH for material handling is the simplified version of our 3200. It has fewer features so that it really focuses on material handling, package movement and logistics. It's constructed out of carbon steel and bolted together, has adjustable guiding features and is simplified to be very cost-competitive. We chose to exhibit at PFLD Expo because we want to show these solutions to the logistics and warehouse executives at the event."

To learn more about Dorner's projects and services, visit Booth 324 at Package Fulfillment, Logistics & Delivery Expo, July 13 and 14, in Cincinnati, Ohio.