Products on Show
Lightning eMotors showcases its digital dashboard
Lightning eMotors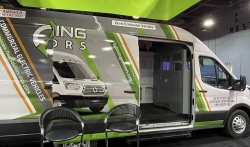 Lightning eMotors is showcasing its newest digital dashboard Glass Cockpit at Package Fulfillment, Logistics & Delivery Expo.

As the newest addition to the company's commercial electric vehicle fleet, this digital dashboard has been designed to give vehicle operators a complete at-a-glance understanding of the past, current and future vehicle status. The company expects this to ensure the safe operation of the vehicle without compromising its performance.

In its instrument cluster, the dashboard features a power usage meter, state-of-charge gauge, and an average energy usage indicator to keep the driver updated on the EV's operation. The power usage meter visualizes how the driver has operated the vehicle over the last 60 seconds, giving them an understanding on how best to use both the vehicle acceleration and regenerative braking. The 'range remaining' metric uses past driver behavior and machine learning to present an accurate estimate of how much range remains given the current battery power. This is designed to reduce drivers' range anxiety. These features come alongside a speedometer, an odometer, a lane departure warning system, malfunction indicator lights (MIL) and a trip meter.

"We specialize in electrification with our powertrains and batteries," commented Marcie Willard, product manager at Lightning eMotors, at PFLD Expo. "This is a great opportunity to showcase our Class 3 cargo van which has a 350 lb capacity and is the ideal application for final-mile package delivery. This combines really well with what the show is accomplishing and the attendees its attracting as we show off our industry-leading, 100% battery-electric cargo van ."

To learn more about Lightning eMotors' projects and services, visit Booth 901 at Package Fulfillment, Logistics & Delivery Expo, July 13 and 14, in Cincinnati, Ohio.