Products on Show
Morgan Olson presents an ergonomic step van body
Morgan Olson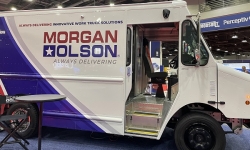 Morgan Olson, a subsidiary of JB Poindexter and Co, is displaying a new, smaller step van body with improved delivery efficiencies and ergonomics compared with cargo van and cutaway delivery vehicles.

The model has been designed to provide customers with a low-height, shorter-wheelbase, 'urban road-friendly' step van body. The step van's mirrorless system is designed to provide drivers with better visibility than traditional side-view mirrors, especially during inclement weather.

Morgan Olson is also currently collaborating with all alternative fuel and powertrain solution providers, including Xos, Freightliner Custom Chassis, Ford, Motiv, Roush CleanTech, Lightning eMotors, Sea Electric, REE, Agility and XL Fleet.

Ken Klein, director of marketing at Morgan Olson, commented, "Our customers drive our step vans in rural areas often with low-hanging branches and short driveways. This new body size and wheelbase combination offers a shorter height and length step van option to cargo van and cutaway truck owners while providing all the productivity, protection and profitability advantages of a step van."

Bret Magnuson, sales manager of Morgan Olson, added, "Morgan Olsen produces aluminum bodies for the last-mile space, ranging from parcel delivery to baking and beverage to the linen industry. It's built as an optimized tool for longevity with a 20-year lifecycle that meets all the needs for the last-mile space. This expo fits our model as the focus seems to be on distribution and facility but each one of the companies here has to figure out how to get it from distribution and facility and fulfillment to businesses and homes across America."

To learn more about Morgan Olson's projects and services, visit Booth 604 at Package Fulfillment, Logistics & Delivery Expo, July 13 and 14, in Cincinnati, Ohio.