Products on Show
An integrated automation platform
Sew-Eurodrive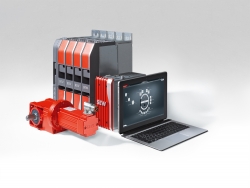 Sew-Eurodrive will present its flexible one-software, one-hardware automation platform, the Movi-C modular automation system.

This system combines fully integrated drive components, control electronics and automation software – all from one source. The key to the Movi-C platform is that each of these components has been designed to work together. The Movi-C platform uses its newest technologies – from high-efficiency asynchronous gear motors to ultra-efficient permanent magnet servomotors. Sew-Eurodrive predicts that machine builders will appreciate the seamless integration and the availability of proven, value-adding software kits tailored to the customer's application.

The new Movi-C product family is designed to solve a wide range of motion control challenges ranging from standard shaft spinning applications like simple conveyors all the way to complex multi-axis kinematics and robotics – for beginner or advanced-level engineers. Its approach is more parameterization and less programming. With this modular automation platform, Sew-Eurodrive covers decentralized control architectures as well as centralized approaches, all the way to highly complex multi-axis systems. From the controller and inverter all the way to the gearbox, this is automation made simple. As an added benefit, the MoviKit pre-built software modules are available for many common motion control applications from simple to complex, including robot control. This makes it easy for engineers of all skill levels to do their own automation.

The Movi-C platform is easy to deploy and intuitive to start up. Plus, with standardized MoviKit pre-built application modules, there is very little programming required, even for advanced automation tasks. Movi-C also integrates with all major PLC manufacturers. Combining Movi-C's ease of use and MoviKit's flexible pre-built modules is the most intuitive way to integrate state-of-the-art drive technology into machines. Customized solutions also include open-loop, closed-loop, functional safety and decentralized applications. Communication compatibility includes Ethernet IP, PROFINET, PROFIsafe, EtherCAT, FSoE and other standards.