Products on Show
ID Parcel & Mail Solutions displays its flexible, high-speed parcel sorting system
ID Parcel & Mail Solutions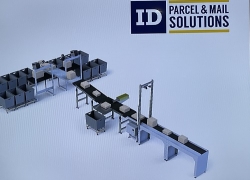 ID Parcel & Mail Solutions' Packet Parcel Sorting System (PPSS), on show at Package Fulfillment, Logistics & Delivery Expo in Cincinnati, Ohio, handles a wide variety of mail and parcels from small packets up to medium-size parcels.

The PPSS can do this at speeds from 2,000 to 4,000 pieces per hour. The system reads package barcodes and dimensions, weighs and sorts. If labeling is required, packages are queued for manual labeling before sorting. Optional OCR and automatic labeling can be added. Several sorting technologies are available, including a pneumatic diverter roller system for dual-sided outputs. The sorting outputs can accommodate postal bags, gaylords or wheeled containers, or a combination. The sorting system handles packages and parcels up to 610 x 457 x 457mm. The maximum weight per piece is 10kg. If heavier weight processing is necessary, a larger version is available that can handle items up to 34kg, with a maximum processing speed of 3,000 pieces per hour. ID Parcel & Mail Solutions also provides OCR and touchscreen workstations and higher-speed small-packet sorting solutions with its Dispatcher sorting systems.

Jerry Fenerty, president and CEO of ID Parcel and Mail Solutions, commented, "We've designed the Packet Parcel Sorting System for shipping facilities that are relatively new to automation or are making the shift from manual sortation to an automated system for the first time. The PPSS has been specifically designed as a flexible and affordable solution for these types of organizations. It can be configured in a number of ways with a range of features, whether it be a small or large setup.

"At ID Parcel & Mail Solutions it is this flexibility and our comprehensive, hands-on approach that sets us apart. When working with clients we're there for them through every step of the process including planning, design, installation, training, service and support.

"We've been really looking forward to PFLD Expo. We hope to learn more about the specific automation needs of shipping facility operators and to get a fresh perspective on how our products for smaller operations can play a role in helping them get a leg up in the ever-evolving parcel shipping industry."

To learn more about ID Parcel & Mail Solutions' projects and services, visit Booth 836 at Package Fulfillment, Logistics & Delivery Expo, July 13 and 14, in Cincinnati, Ohio.