Products on Show
Shoe sorting system for a 24/7 warehouse automation operation
NPI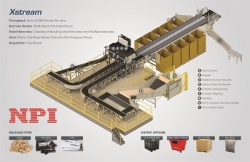 National Presort (NPI)'s Gen3 Xstream high-speed shoe sorting system has been specifically designed for the rigorous requirements of a 24/7 warehouse automation and fulfillment operation. The complete Xstream system is designed to reliably process a variety of package shapes, including polybags, boxes, flats, trays, tubs and other irregular pieces. Its dynamic shoe mechanism and modular design are ideal for handling a variety of product sizes, shapes and weights.

The Xstream has optional in-motion weighing, dimensioning and labeling with multiple options for sort destination types, such as carts, sacks and gaylord boxes. It features a versatile and user-friendly Windows-based user interface and an ergonomic design that makes it a great parcel automation solution for any operational processing environment. With a throughput of up to 24,000 parcels per hour, the Xstream has a compact, scalable design, can process both inbound and outbound package streams and is available in single-sided and double-sided configurations.

The Xstream is also available with a patented semi-automatic two-lane induction and singulation system that optimizes throughput and operating consistency. It can seamlessly integrate with an existing conveyor system as a key component in larger warehouse and fulfillment operations.