Products on Show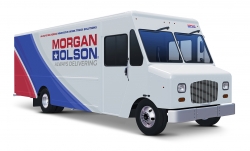 Morgan Olson, a subsidiary of JB Poindexter and Co, will display a new, smaller step van body with improved delivery efficiencies and ergonomics compared with cargo van and cutaway delivery vehicles. The model has been designed to provide customers with a low-height, shorter-wheelbase, 'urban road-friendly' step van body.

Ken Klein, director of marketing at Morgan Olson, comments, "Our customers drive our step vans in rural areas often with low-hanging branches and short driveways. This new body size and wheelbase combination offers a shorter height and length step van option to cargo van and cutaway truck owners while providing all the productivity, protection and profitability advantages of a step van."

He continues, "This step van is mirrorless. This 'mirrorless' system eliminates side mirrors and provides drivers with better visibility than traditional side-view mirrors, especially during inclement weather. The days of standing in the cold and brushing off snow are eliminated, and visibility is improved with this new technology. We look forward to sharing this new step van in its display at the Morgan Olson booth."

Morgan Olson is a leading walk-in step van body manufacturer in North America, producing over 15,000 vehicles annually. Sarah Shoemaker, the company's director of product and EV strategy, says, "Morgan Olson has always been the forerunner in the step van EV and alternative fuel field, which is why North America's most successful delivery fleets trust Morgan Olson step vans. Morgan Olson is currently collaborating with all alternative fuel and powertrain solution providers, including Xos, Freightliner Custom Chassis, Ford, Motiv, Roush CleanTech, Lightning eMotors, Sea Electric, REE, Agility and XL Fleet."

The company also partners with the largest EV chassis providers in the industry. Other vital industries served by Morgan Olson include all major parcel and package delivery companies, laundry services, baking and snack foods, service and utility vehicles, and the ever-growing mobile cuisine food trucks.