Products on Show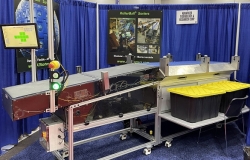 Advanced Technology & Research Corp (ATR) is presenting RollerBall, a new package sorting system that has been designed to be more flexible and inexpensive than traditional sorters.

The design uses Regal Rexnord System Plast roller-top belting and is driven by low-voltage motorized drive rollers. RollerBall can sort all package types and boasts a small footprint, low noise and low operating costs. The sorter has a modular design and is constructed from identical sections that connect to provide up to 200 sort points. According to ATR, new sort sections can also be added at any time with no change in software. The modular design is intended to keep spare parts requirements to a minimum, and modules are designed for rapid remove-and-replace servicing if necessary.

To increase the ease of installation, ATR provides fully assembled sorter sections that have been made to fit through a standard double door. Its standardized induction station accepts packages that are simply faced and placed in the scanning zone. Options are available for automated feed conveyors, high-resolution weighing, dimensioning and package imaging. These features can be easily added even after initial installation.

The control software and a comprehensive HMI provide a set of operational displays and troubleshooting screens. RollerBall's database maintains a complete set of operational records and is designed to integrate with a variety of warehouse management systems.

"This sorter is a smaller, easier-to-install, modular system designed for dispatch operations," said Rob Lundahl, vice president of the automatic division at Advanced Technology & Research Corp, speaking at the show. "It's 2 to 25 pieces an hour and you can install anything from 4 to 200 sort points. The niche that we've found is in last-mile delivery when packages are given out to drivers. This is because it's very hard to find and keep labor in this area."

To learn more about ATR's projects and services, visit Booth 632 at Package Fulfillment, Logistics & Delivery Expo, July 13 and 14, in Cincinnati, Ohio.