Products on Show
Unit load spiral conveyor
Ryson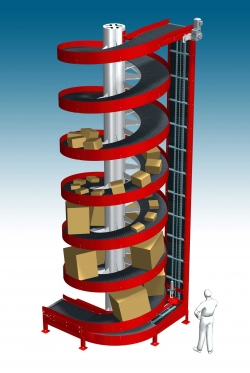 Ryson will be exhibiting its Unit Load Spiral Conveyor at the Package Fulfilment, Logistics and Delivery Expo in Cincinnati.

Ryson's spiral conveyors need less floor space than conventional incline conveyors and are designed to be fast and reliable. They are especially well suited for consumer-packaged goods companies and warehousing operations. All products can be delivered in powder coated carbon steel, stainless steel, wash down or freezer versions.

The Ryson Unit Load Spiral Conveyors – or case spiral – can convey cartons, cases, trays, totes and all sorts of packaged goods up or down in a continuous flow. Central to its design is the Ryson proprietary slat-style belts designed with rolling friction and without any sliding movements or wear strips. This facilitates a small footprint, high speed, low noise, low maintenance and a long life.

This versatile spiral is ideal for vertically conveying products within a very small footprint. One of its biggest advantages is that it can handle various product sizes at the same time, so no change parts or adjustments are needed. The overlapping slats that are used on its Spiral Conveyors provide an efficient and safe conveying surface for cartons, cases, trays, totes and all sorts of packaged products. Available in 8in, 12in, 16in, 20in, 24in, 26in, 30in and 36in wide slats. Additionally, friction inserts can be optionally added when additional grip is required.

Ryson International was founded in 1995 and specializes in vertical conveying solutions. It manufactures a full line of spiral conveyors that can satisfy many vertical conveying needs, and a broad range of bucket elevators for conveying bulk materials. The company also makes various ancillary equipment for its product lines.