Products on Show
Opticon demonstrates hands-free barcode scanning
Opticon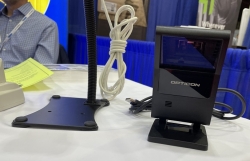 Opticon is demonstrating its hands-free barcode scanning solution, the RS-3000, at Package Fulfillment, Logistics & Delivery Expo.

The wearable RS-3000 is a small, lightweight, Bluetooth 2D ring scanner. It is designed to increase companies' productivity, safety and mobility by enabling hands-free operations in receiving, put-away, picking (including voice picking), sorting, loading, replenishment, inventory management, parts tracking and shipping. According to Opticon, barcode scanning offers a cost-effective way to improve traceability, accuracy and ease of data entry within a variety of applications.

The 2D imager barcode scan engine can process 100fps and can scan cell phones, tablets and computer displays. It has also been built to be able to scan curved, wide, poorly printed and damaged barcodes. The adjustable finger strap promotes the comfort of the solution for various hand sizes and for left- or right-hand use. In addition, each worker can have their own ring bracket. If a team works in shifts, a member can detach the scanner from the bracket and click it onto the next worker's bracket in a few seconds. Opticon sees applications for the tech in parcel lockers, package automation solutions and kiosks.

"We've been doing barcode manufacturing for nearly five decades," said Jay Lauer, sales and marketing manager at Opticon. "The ring scanner provides hands-free, heads-up, safe scanning abilities, so people aren't having to physically pick up the scanner, find the item and set down the scanner and then maybe pick up a box. With a ring scanner, you can easily scan the barcode for traceability tracking reasons so you're safer moving the package."

To learn more about Opticon's projects and services, visit Booth 714 at Package Fulfillment, Logistics & Delivery Expo, July 13 and 14, in Cincinnati, Ohio.