Products on Show
JLC Industrial demos its AMRs with payload and towing capabilities
JLC Industrial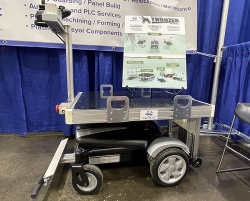 JLC Industrial is busy demoing its Doog's Thouzer AMRs at the expo. The AMRs can handle payloads and towing.

The AMRs' follow-me function enables the solution to follow a human, other AMRs or carts/dollies without a tracker. Similarly, the memory trace function makes it memorize the route, so it can later be played back using the follow-me function or with a joystick. Finally, the line trace function is performed with reflective tape or paint on the floor. These features have been designed to be helpful during labor shortages and reduce wasteful time walking. According to the company, this and the product's simple-to-use design can increase fulfillment productivity. The AMRs also support heavy and multiple-load transportation.

"During a trial of our AMR for a group that fulfills orders, we were able to achieve 100% throughput and reduce needed labor by 50%," commented Jamie Callihan, president of JLC Industrial and JLC Robotics, at the show. "When we heard about Package Fulfillment, Logistics & Delivery Expo, we knew we had to share the technology. We're excited to be part of an expo that will have excellent speakers, sessions and products that support overcoming today's challenges."

To learn more about JLC Industrial's projects and services, visit Booth 321 at Package Fulfillment, Logistics & Delivery Expo, July 13 and 14, in Cincinnati, Ohio.