Products on Show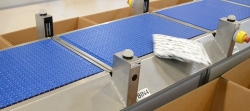 ATR will present RollerBall, a new package sorting system that is more flexible and inexpensive than many traditional sorters. New to the market in 2021, RollerBall is already a proven performer with an attractive ROI. For example, one of ATR's last-mile customers reported a 45% increase in packages processed using less people than before. Sorting operations that once took 15 people are now performed with 8. That's a 45% increase in volume with 46% less people.

This innovative design uses Regal Rexnord System Plast roller-top belting and is driven by safe, low-voltage motorized drive rollers. It will sort all package types and boasts a small footprint, low noise and low operating costs. RollerBall is a modular design, constructed from identical sections that connect to provide up to 200 sort points. New sort sections can be added at any time with no change in software. The modular design keeps spare parts requirements to a minimum, and modules are designed for rapid remove-and-replace servicing if necessary.

Installation is quick and easy with fully assembled sorter sections that are readily moved by hand and fit through a standard double door. Most installations can be accomplished in about a day, with minimal disruption to ongoing operations. A standardized induction station accepts packages that are simply faced and placed in the scanning zone. Options are available for automated feed conveyors, high-resolution weighing, dimensioning and package imaging. These features can be easily added even after initial installation.

Robust control software and a comprehensive HMI provide a rich set of operational displays and troubleshooting screens. RollerBall's database maintains a complete set of operational records and is designed to integrate easily with a variety of warehouse management systems. RollerBall is an off-the-shelf sorting appliance that takes the complexity out of package sortation. Its sort modules, induction station and control system are all field-proven.