Products on Show
Leopard Systems reveals its updated ugly freight measurement solution
Leopard Systems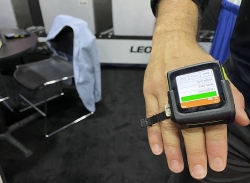 Mobility solutions provider Leopard Systems has revealed its updated ugly freight measurement solution Leopard Cube at Package Fulfillment, Logistics & Delivery Expo.

Leopard Systems has updated its system with two new devices from Zebra Technologies, WS50 Wearable Computer and the cubic dimensioning system TC58. These solutions are designed to enable a wireless and hands-free approach to data capture and data processing. According to the companies, the products are the first of their kind and will make the solution more efficient, especially in high-volume user sites.

Leopard Cube combines rugged mobile scanning computers, a durable measuring tape and a real-time data management system to efficiently capture, store and communicate measurement data of parcels and pallets. The company has pointed out that because ugly freight often requires businesses to rely on estimates and customer-declared measurements, inaccurate freight data can arise – resulting in revenue leakage, safety issues and inefficiencies.

This solution is designed to reduce the labor, time and costs associated with ugly freight through more accurate measurements and therefore billing.

With Leopard Cube, companies can accurately measure the 5-20% of freight volumes that are non-conveyable and ugly. The company reports that its customers have found that the solution not only provides real-time revenue protection but that it can save them approximately US$500,000/year due to accurate data on sizing. Leopard Cube also enables customers to offer more competitive rates or dedicated 'awkward freight' shipping options.

Alex Koumaras, managing director of Leopard Systems, said, "PFLD Expo presents an exciting opportunity for Leopard Systems to demonstrate the power of Leopard Cube to solve ugly freight management challenges to our North American and international customers. It's a great opportunity to meet the team at our booth where we're unveiling the latest Leopard Cube innovations – the support for the WS50 wearable computer that provides a scan-intensive, wireless and hands-free approach to data capture and processing. We're also giving free demos of Leopard Cube and showcasing its many benefits and capabilities. Visitors are getting to see the latest in parcel cubing technology via mobile camera technology and Leopard Cube. This expo is our first shot at being face-to-face with North American clients. We've had a lot of interest over the last couple of years, but we just haven't been able to meet people in person, so this is a great opportunity to listen to what their main points are and take those on board."

To experience the Leopard Cube, the WS50 and the TC58 firsthand, visit Booth 808 at Package Fulfillment, Logistics & Delivery Expo, July 13 and 14, in Cincinnati, Ohio.