Products on Show
Two-Way Radio Gear is presenting its 360 camera
Two Way Radio Gear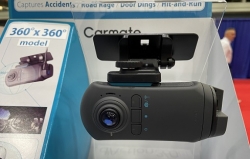 Two Way Radio Gear is presenting its 360 camera at Package Fulfillment, Logistics & Delivery Expo 2022.

Motorola Solutions 360 camera operates through two 360° lenses to enable a full view of what's happening inside a delivery vehicle. This is designed to increase operators' understanding of normal operations as well as unusual scenarios and accidents. The camera also comes with a removable SD card and a downloadable app.

"It's the only 360 camera on the market," said Todd Spitzer, business development manager at Two Way Radio. "It comes with a downloadable app and there's no monthly recurring cost, which is a big deal for a lot of cameras in the market space. Within the app, you can scroll; for example, if you have a truck that gets T-boned – which accounts for over 50% of accidents – you can scroll and see what happened, maybe someone ran a red light. We're new to the logistics space and we're a lot more warehouse and industrial typically, so the show is allowing us to expand into vehicles."

To learn more about Two Way Radio Gear's projects and services, visit Booth 648 at Package Fulfillment, Logistics & Delivery Expo, July 13 and 14, in Cincinnati, Ohio.