Products on Show
Mettler Toledo displays its high-speed dimensioners
Mettler Toledo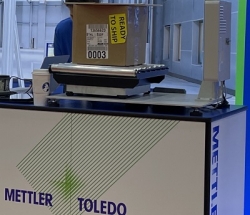 At Package Fulfillment, Logistics & Delivery Expo in Cincinnati, Ohio, Mettler Toledo is showing its newly launched dynamic parcel dimensioners, the TLD950 SingleHead and the TLD950 MultiHead.

These dimensioners are designed for parcel carriers and distribution centers that are processing higher package volumes than before. This is because, according to Mettler Toledo, the products have the highest read rates in the industry, to maximize revenue recovery. Additionally, the systems can measure at speeds up to 3.3m/s to keep throughputs high and maximize uptime. These features are intended to improve operational efficiency and reduce costly manual processes.

Combining a wide dynamic range with large optics, the TLD950 has been created to measure challenging reflective and light-absorbent surfaces, including difficult-to-read black plastic. The company futureproofed the design by ensuring the TLD950 could integrate with weighing and identification equipment for data communication.

Dave Martin, Mettler Toledo's national key account manager, said at the show, "It's not easy to do well – accurately and legally. One of our big benefits is that we can do it anywhere on the globe and provide boots on the ground if there's a problem."

To learn more about Mettler Toledo's projects and services, visit Booth 628 at Package Fulfillment, Logistics & Delivery Expo, July 13 and 14, in Cincinnati, Ohio.