Products on Show
Expanding options for EV delivery
Workhorse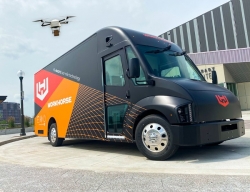 Workhorse is an electric vehicle (EV) manufacturer based in Cincinnati, Ohio. As it expands its offerings to provide flexibility for fleet managers and operators, it is looking forward to showing visitors the capabilities of its W750 and W56 EVs.

Available in the autumn of 2022, Workhorse's W750 is a heavy-duty Class 4 electric vehicle with a payload capacity of 7,000 lb (3,175kg) and a range of up to 150 miles (240km). The cab and chassis design offers flexibility for various delivery needs and is certified in the US and Canada.

The W56 will join the lineup of Workhorse vehicles in 2023. This Class 5-6 vehicle will be offered in multiple wheelbase and load rating options for a variety of daily applications. With a range of 100-150 miles (160-240km), Workhorse's W56 is suitable for all delivery needs. Both vehicles offer DC fast charging and wireless charging options and will be manufactured in Workhorse's Union City assembly plant in Indiana.

Workhorse also develops and manufactures state-of-the-art drone technology that offers last-mile delivery cost savings and commercial applications for multiple uses. The drone delivery business is an integral piece of the last-mile delivery story. Workhorse's Horsefly delivery drone is a custom-built, high-efficiency delivery UAV that is fully integrated with the company's line of electric delivery trucks.

The Horsefly system is designed to conform to the FAA guidelines for UAV operation in the US. Fully integrated with delivery trucks, it is designed so that a driver or driver's assistant can maintain a line-of-sight operation of the UAV delivery process. Combining truck and drone delivery is the basis of the Workhorse model and the future of the EV marketplace. Reducing costs and optimizing efficiencies are the lasting benefits of moving to an EV fleet today and into the future.

With two existing product families – aerospace drones and commercial vehicles – Workhorse is pioneering the transition to zero-emission commercial vehicles. Since 2015, the company has been producing electric vehicles for the last-mile delivery marketplace and leading the way for the evolving EV industry.