Products on Show
PAC Machinery demos its bagger machines with sustainable packaging
PAC Machinery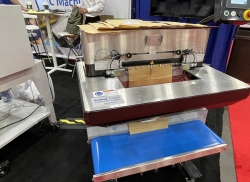 PAC Machinery is presenting its automatic bagging solutions and running several environmentally friendly bags on its machines at Packaging Fulfillment, Logistics & Delivery Expo.

The company's automatic bagging solutions include the Rollbag R785 automatic bagger, and the R3200 and R3200XL fulfillment automatic baggers. These systems are designed to reduce shipping costs by right-sizing bags, eliminating excess bag materials and reducing material usage.

The Rollbag R785 is an all-electric, automatic, tabletop polybagger that operates at up to 40 bags/min, ensuring that machine speed is not the limiting factor in packaging operations. It is engineered to accommodate bags on a roll up to 12in (30.5cm) wide and 20in (51cm) long. The high-power sealing magnet creates hermetic seals in materials up to 5mm thick.

According to PAC Machinery, the Rollbag R3200 fulfillment machine is ideal for e-commerce, order fulfillment and distribution facilities that require the highest level of performance in their order fulfillment packaging operations. The standard Rollbag R3200 works with bags up to 16in (41cm) wide and 24in (61cm) long and has a seal bar opening of up to 6in (15cm) with an optional 8in (20cm) opening available. The XL version works with bags up to 22in (56cm) wide and 36in (91cm) long and features a seal bar opening of up to 11in (28cm).

PAC is also exhibiting its new high-performance, eco-friendly Fiberflex pre-opened paper mailers for automatic bagging, which consumers can recycle curbside. These innovative paper mailers are designed for use on PAC's bestselling Rollbag automatic bagging machines.

Blake Knisley, regional sales manager for the mid-Atlantic at PAC Machinery, commented, "Our sustainable packaging and the shift toward baggers is something that we're trying to roll out at the start of 2023. There's a lot of desire in companies to move toward a more sustainable packaging option over straight poly. We've designed a new workaround in our machines that allows us to take our normal machines and run curbside, recyclable paper mailers on them. We're at this show in particular because areas of Ohio and Kentucky are becoming more and more massive distribution centers."

Tom Zamiska, product line manager of Rollbag at PAC Machinery, added, "This solution is important because it is eliminating plastic from the environment. Its inside coating is water-resistant, so this also protects the environment. At this expo, we're interested in moving toward the order fulfillment part of the industry that has emerged over the last three or four years as there is more need for one-step solutions like a bag with the address label on it. It has prompted us to look more toward the logistic services and order fulfillment type people. We're excited for inquiries, leads and post-show sales at this expo."

To learn more about PAC Machinery's projects and services, visit Booth 428 at Package Fulfillment, Logistics & Delivery Expo, July 13 and 14, in Cincinnati, Ohio.