Speaker Details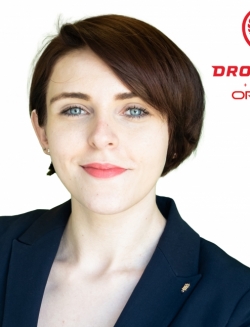 Lora O'Toole
Lora the head of business development at Dronedek in Indianapolis, Indiana. She received her bachelor's degree in international studies and Japanese from Indiana University. Lora started in the autonomous systems industry in 2019 and though still relatively new to the industry, she has extensive experience working at startups. She is very involved in the tech and UAS communities and is the treasurer for AUVSI's Indiana chapter and a member of several other organizations in the space. Lora was honored as part of Conexus's 30 under 30 in the logistics and advanced manufacturing industries in Indiana in 2021.
---
Presentation
Automation and the future of logistics/supply chain
From the beginning of the supply chain to last-mile logistics, autonomous systems can make the industry more sustainable, secure and efficient for businesses, employees and customers alike. With unprecedented +32% growth in e-commerce in 2020 largely due to the Covid-19 pandemic, the logistics industry is growing rapidly to keep up with demands. This talk will explore the broader impacts of electric vehicles (EVs), autonomous systems and smart infrastructure in the space to discuss how these technologies can make our lives simpler, safer and more connected.