Products on Show
Machine-learning delivery predictions
Parcel Perform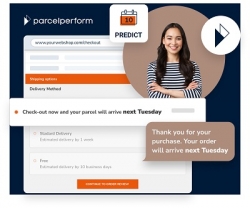 Parcel Perform's machine learning-enabled date-of-arrival prediction (DAP) engine analyzes historical data from millions of past shipments to predict the date of delivery with up to 98% accuracy. This solution, which will be showcased at the expo, also works to increase data-centricity and innovation in an increasingly data-first logistics market.

With this solution, Parcel Perform is filling a crucial gap in the industry. Globally, only 5% of carriers provide an estimated date of delivery and this data point is often inaccurate. DAP is positioned to meet the needs of e-commerce enterprises and end consumers globally. E-commerce enterprises looking to deliver an outstanding post-purchase experience for customers have implemented Parcel Perform's solution and not only seen increases of up to 40% in their customer lifetime value but also built customer trust and increased checkout conversions. Meanwhile, end consumers benefit from this technology as they know when they can expect their parcels to arrive, leading to reduced missed deliveries and increased satisfaction with the delivery experience.

Several proofs of concept and client implementations have led to successful results – the level of accuracy increases through stages from checkout to delivery, based on the availability of fulfillment data including order timestamps, fulfillment events and origin locations. At checkout, the prediction accuracy is up to 90%, increasing up to 98% during the out-for-delivery stage. Parcel Perform partnered with Amazon Web Services to build its DAP engine using machine learning technology. This engine tells customers when their parcels arrive, instead of where they currently are. With DAP, merchants can get accurate delivery date predictions that automatically update in real time based on changes in the environment.

Parcel Perform is a leading delivery experience platform. Its solutions have connected e-commerce brands, retailers and marketplaces with over 800 carriers globally to provide real-time parcel tracking for over 100 million parcels. It enables modern e-commerce enterprises to create unique end-to-end customer journeys and optimize logistics operations with powerful data integrations, parcel tracking, delivery notifications and logistics performance reports in real time.