Products on Show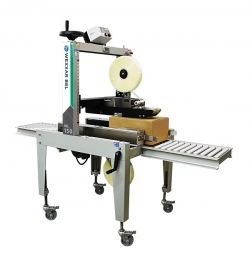 IPS Packaging & Automation will demonstrate the Sharp SX auto bagger and the Wexxar Bel 505 case former.

The Sharp SX auto bagger features a mobile cart for shipping soft goods, parts and other non-fragile items. With this technology, the company can effectively replace four operators with just one bagger while increasing overall production. After scanning the pick ticket for customers' shipping information, IPS prints that shipping information directly onto its postal-approved bag – eliminating the need for labels. The company expects this to reduce the inflated shipping rates caused by the new dimensional weight restrictions for shipping small parcels.

The Wexxar Bel 505 case former is a one-person pack station combo unit for case erecting, packing and case sealing. This ergonomic box stand can form a new box and hold it firmly in place for the operator to easily fill with goods. Once the box is filled, the operator pushes it through the Wexxar Bel 150 top and bottom case sealer. As the box exits the sealer, a Gravity NestaFlex conveyor seamlessly carries it back to the operator to be palletized. According to IPS, this system's biggest advantage is its simplicity as these highly productive solutions are cost-effective and easy to maintain.