Products on Show
Optimizing parcel businesses with data analytics
Vanderlande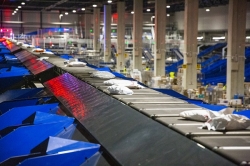 Parcel delivery companies across the world are dealing with high volumes due to the boom in e-commerce over the past two years. This means that sorting systems are now at full stretch as consumers who moved to online shopping during the Covid-19 pandemic continue to enjoy its speed, choice and convenience.

The quality and reliability of Vanderlande's sorting systems are well recognized by the leading industry players. In fact, Vanderlande products sort more than 48 million items every day and are used by the world's top parcel delivery companies.

Vanderlande parcel handling solutions are tailor-made to meet the needs of each depot. The company offers an extensive portfolio of integrated solutions, including unloading and sorting systems, intelligent software and lifecycle services. Vanderlande's innovations provide fast, reliable and efficient automation technology with a proven track record in the most advanced parcel hubs.

With innovative data analytics and reporting tools, Vanderlande is so much more than an equipment supplier. It can also help parcel companies understand how their sorting systems are performing. Ultimately, the aim is to ease the work of on-site teams and support decision making relating to maintenance planning and daily operations.

Smart use of data also enables Vanderlande to provide lifecycle planning services to the parcel delivery companies that use its equipment. Better lifecycle planning for sorting systems means fewer breakdowns, reduced running costs and greater operational efficiency.

Therefore, Vanderlande's data analytics and reporting tools combine with its innovative sorting systems to give users the total solution they need to meet customer expectations and cope with increased volumes – day in, day out. Vanderlande is truly a global partner for futureproof parcel handling systems.