Products on Show
100% battery-electric vehicle
Xos Trucks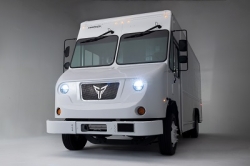 The Xos SV05 step van is a 100% battery-electric vehicle that has been purpose built for commercial use and designed to accommodate a variety of use cases. The company's step vans have been used by commercial fleets since 2018 and are currently operated by multiple nationwide fleets including FedEx, Loomis and UniFirst. The SV05 has a gross vehicle weight rating (GVWR) total that ranges from 19,500 lb (8,845kg) to 26,000 lb (11,800kg). It also has a 100- to 150-mile (160-240km) range with 335hp.

To minimize downtime, the step van has a DC charge time of one hour and an L2 charge time of four hours. It features a 350kW fully electric motor, hydraulic disc brakes, direct drive propulsion and leaf spring suspension. The SV05 also includes standard features like alarms, ABS, down-view mirror, regenerative braking, parking brake interlock and power steering. Some optional upgrades include blind-spot detection, lane departure warning, speed limit indication, stability control and a 360° camera.

To customize its solution to any fleet's needs, Xos works with leading body manufacturers such as Utilimaster and Morgan Olson. Xos's Lyra battery systems are built from the cell level up at the company's Los Angeles headquarters; the chassis are built from the ground up at its Flex Manufacturing facilities in Tennessee and Mexico. With every truck, customer and new facility, Xos aims to decarbonize transportation and make the world a cleaner, more sustainable place.