Products on Show
Order fulfillment robots
AHS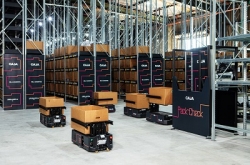 AHS, a Hy-Tek Material Handling company, commissions and integrates the Caja Robotics solution to automate the order fulfillment processes of its customers. Caja Robotics is a goods-to-person (G2P) solution that increases picking efficiency and storage capacity while optimizing employees' workplaces. The system consists of the Lift and Cart robots, which retrieve high and low cartons and bring them to the picking workstation.

At the workstation, bins with the ordered items arrive and can be quickly and accurately picked for outbound orders. The workstations are equipped with monitors, put-walls, put-to-light systems and ergonomic stations for humans and robots to work synergistically. It is an adaptive, scalable and responsive solution that eliminates costly non-value-added tasks. According to the company, it can also save up to 61% of picking-associated labor costs.

The technology features advanced algorithms that optimize inventory and order management, and cloud-based software that enables fast changes in operations and accurate simulations and predictions before a single robot is put in place. With Caja Robotics, storage space is maximized through bin consolidation processes and the option to use multi-SKU bins. Bins are consolidated at the replenishment station. During this process, the robots bring partially filled bins from different locations in the facility to merge and free up storage locations.

The two robots continuously organize the warehouse for better picking times. The software dynamically optimizes warehouse bin locations based on the order prediction algorithm and current urgent needs, rearranging the facility and bringing high-volume orders closer to the picking station.

AHS's ability to seamlessly integrate Caja Robotics with existing infrastructure and warehouse management software makes it the ideal partner for automating facilities in dynamic markets such as the e-commerce, 3PL and e-grocery sectors. The AHS team will work to understand business targets, develop customized company plans and implement Caja Robotics to help facilities optimize their fulfillment processes.