Products on Show
Hands-free barcode scanning
Opticon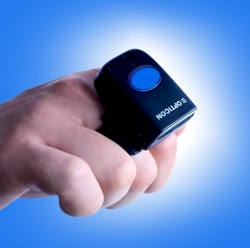 Opticon will showcase its new RS-3000 (a small, lightweight, Bluetooth 2D ring scanner) and other wearable, mobile, fixed mount and scan engine barcode scanning solutions that help companies increase productivity, safety and mobility. The RS-3000 enables transportation, logistics, warehousing, manufacturing and retail organizations to easily and quickly integrate hands-free barcode scanning into various applications including receiving, put-away, picking (including voice picking), sorting, loading, replenishment, inventory management, parts tracking and shipping.

Featuring an extremely fast (100 frames per second) 2D imager barcode scan engine, the RS-3000 can easily scan barcodes off cell phone, tablet and computer displays and scan curved, wide, poorly printed, and damaged barcodes. The adjustable finger strap allows the scanner to be comfortable all day for any hand size and for left or right-hand use. In addition, each worker can have their own ring bracket. If your team works in shifts, you simply detach the scanner from the bracket and click it onto the next worker's bracket in a matter of seconds.

Opticon's fixed-mount scanners and barcode scan engines are the ideal solutions for companies looking to integrate barcode scanning into their parcel lockers, package automation solutions and kiosks. The company's over 40-year legacy of innovative and space efficient design, along with industry leading technical capabilities, enables it to offer a comprehensive product line that provides the right combination of size, reliability, performance, as well as integration flexibility. Barcode scanning offers a cost-effective way to improve traceability, accuracy and ease of data entry within a variety of applications.